News page
Rufus Irish Terrier
Rufus Irish Terrier since 31 years
Our next litter is planned in february 2015 with Amy as mother, a charming and racy Irish Lady with natural set ears, a wonderful coat in bright red colour who had already 2 quality litters
<![if !vml]>
<![endif]>  <![if !vml]>
<![endif]>  <![if !vml]>
<![endif]>
<![if !vml]>
<![endif]>
Our 2 last boys, waiting to discover their new paths in 9 days .
Please watch the German part to see new pics and also a new videotape !
Our C litter at 7 weeks, not trimmed (natural red coats)
They have passed the strict quality control by the German Terrier Club with an  excellent report:
Very harmonious litter, in best condition . All puppies are friendly, and very well socialized with humans, typical coat, correct tails, very nice heads with typical ears
Full dentition ( puppy teeth) , correct scissor bites, 1 straight caninus , no cinky tails, no umbilical hernia
<![if !vml]>
<![endif]>   <![if !vml]>
<![endif]>   <![if !vml]>
<![endif]>
Rufus Coppercoin                                    Rufus Crackerjack                                    Rufus Casanova
<![if !vml]>
<![endif]>   <![if !vml]>
<![endif]>   <![if !vml]>
<![endif]>
Rufus Challenger                                      Rufus Cheerio!                                             Rufus Ciaran
<![if !vml]>
<![endif]>   <![if !vml]>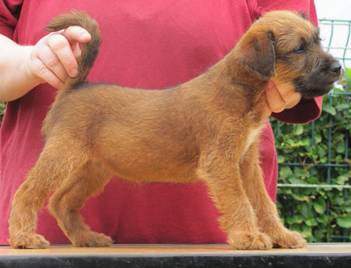 <![endif]>   
                Rufus Calimero                                   Rufus Caste a Spell , the girl
<![if !vml]>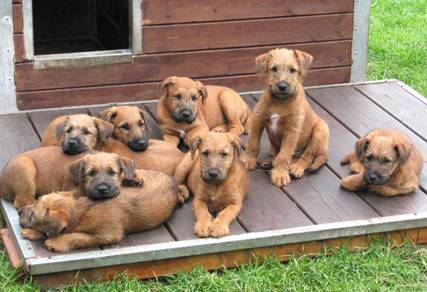 <![endif]>
<![if !vml]>
<![endif]>
Tired after playing ,playing, and again playing……;-)
<![if !vml]>
<![endif]>
June 16th  2012
<![if !vml]>
<![endif]> <![if !vml]>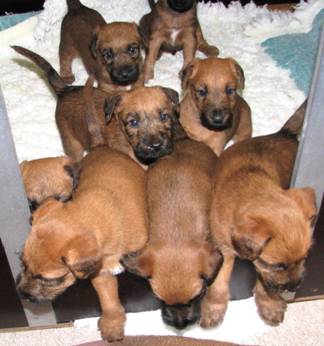 <![endif]> <![if !vml]>
<![endif]>
We have a new video about the puppies development of the last week. They are now already miniature Irish Terriers!
 June 12th  2012
<![if !vml]>
<![endif]> <![if !vml]>
<![endif]>
Check out, our new puppy video;-)
Rufus C Litter June 10th "worm treatment"
<![if !vml]>
<![endif]> <![if !vml]>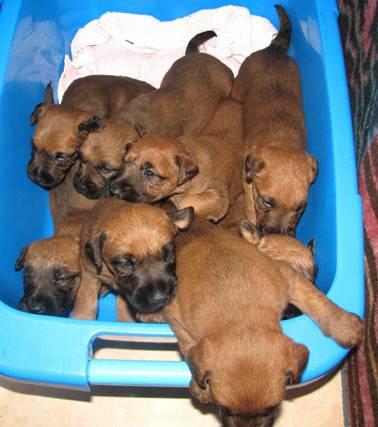 <![endif]>
by
 <![if !vml]>
<![endif]>  <![if !vml]>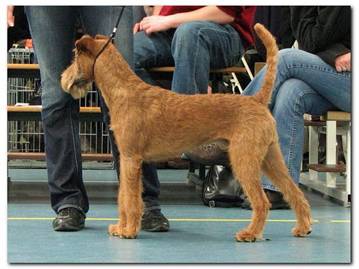 <![endif]>
Oliver James v Koudenhoven ( by Ch Rufus Look at me!)
Amy and James  presented us a quality litter of 7 /1 on may 16th 2012!
Amy aka
<![if !vml]>
<![endif]>
Rufus a Waltzing Matilda by Ch Anluan Prince of Thieves
 <![if !vml]>
<![endif]> <![if !vml]>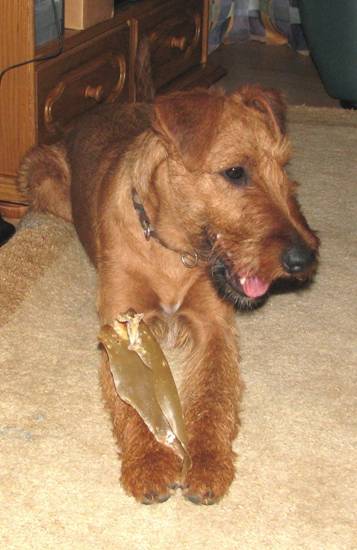 <![endif]>
2010
<![if !vml]>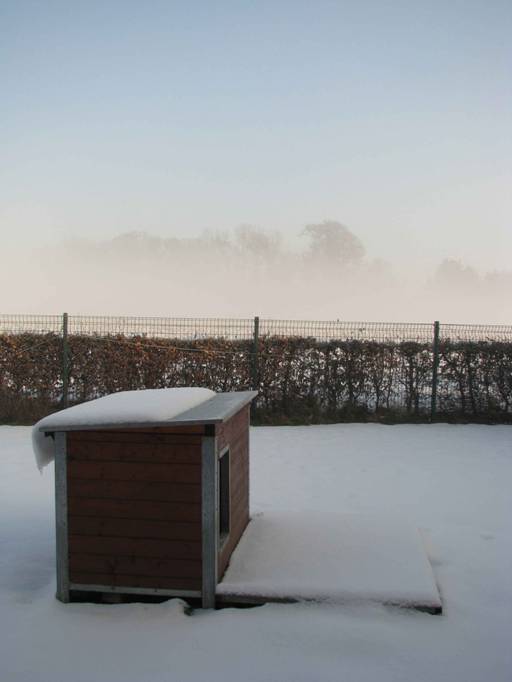 <![endif]>
Our outdoor puppy run today in the morning mist and sun at - 9°C  – but now we have march, 9 !
The Rufus A litter
<![if !vml]>
<![endif]>
Stella with her 9 puppies, born February 15th
Still a little bitch puppy available !
RUFUS Irish Terrier`s  Happy New Year 2010
Our dogs enjoy the snowy winter´s day at New Year – almost no difference visible in the Oldie dogs( 9 and 10 years) and the younger ones - all are enthusiastic.
<![if !vml]>

<![endif]><![if !vml]>

<![endif]><![if !vml]>

<![endif]>
Rufus Under my Spell "Rufi"  -  2008 Top IT studdog with most german litters 
  <![if !vml]>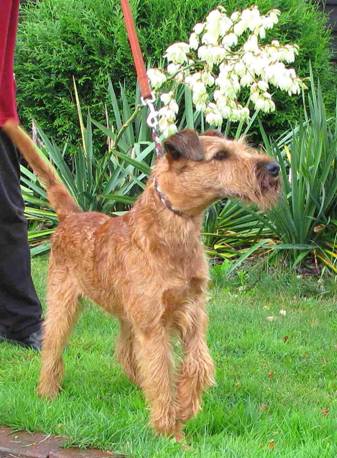 <![endif]> <![if !vml]>
<![endif]> <![if !vml]>
<![endif]>
                                                                                   © O Mönning                                                                                          © Odermatt
Here are 3 of his get from 3 different motherlines – but one look!
<![if !vml]>
<![endif]> <![if !vml]>
<![endif]>  <![if !vml]>
<![endif]>
Excellent ears, small dark eyes with "kajal" , nice red jackets , elegant movement and a special attitude is the trademark of most of his get.
18.10. 2009
                                                                                   2 interesting links about the World Dog Show Bratislava
http://www.bstreet23.weblahko.sk
http:/www/irish-terriers.lv/index.php?lang=en
<![if !vml]>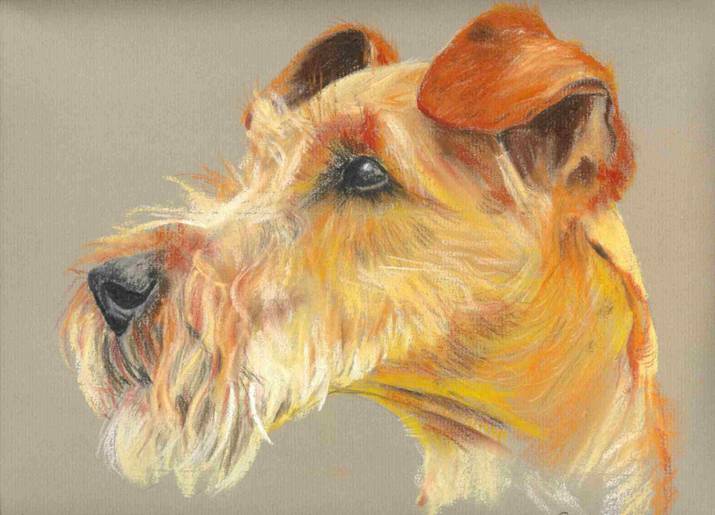 <![endif]>
3. September 2009
Byron – Rufus Look at me ! 
This beautiful drawing of our unforgettable Byron  Elisabeth Kirsch  did inspired by a picture Peter Jaspers  took in July 2008.
Both catch in perfection the special spirit and type Byron was wellknown for . My  heartfelt gratitude to both!
<![if !vml]>
<![endif]> 
**********************
Our congratulation goes to Buffy and his owner Dr H L Frese, who prepares/trims/handles him  : the first of may saw Buffy at the VDH European Winner Show in Dortmund  as best male No 2 ( behind the winner of the Terrier Group Darren vd Emsmühle) of the adult classes with Res CACIB / Res CAC / VDH
 A real big success,for you, Buffy and Lui !!
Buffy is only rarely shown , but his charme and charisma is very special!
All about Buffy ( and his puppies) you will find in his german diary :
Buffy is very wellknown to the visitors of my german of the website, here you can see ( and read, in german) all about Buffy from being a 5 day old puppy until today, incl pedigree, cystine result form etc etc ! N –joy!   
<![if !vml]>
<![endif]>
                                                         Rufus Whoops it´s Buffy                 © HLF  
<![if !vml]>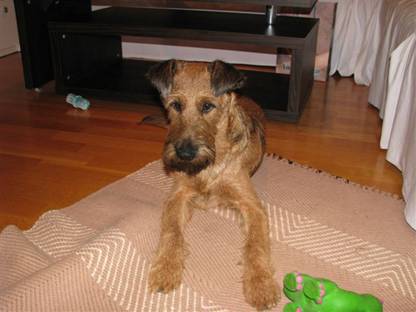 <![endif]>
A nice son of Rufi in Finland
Riku is already a proud sire of 10 puppies – 8/2 in Finland – congratulations!
November 22, 2008
    The first snow 
Our dogs had  much fun, esp Ruska who learned today:  what is snow ? Something to jump into, to jump to catch snow flakes in the air , to eat and to run thru with lots of fun with her playmate Rufi. See Ruska, Stella and Rufi playing ….
October  12, 2008 
<![if !vml]>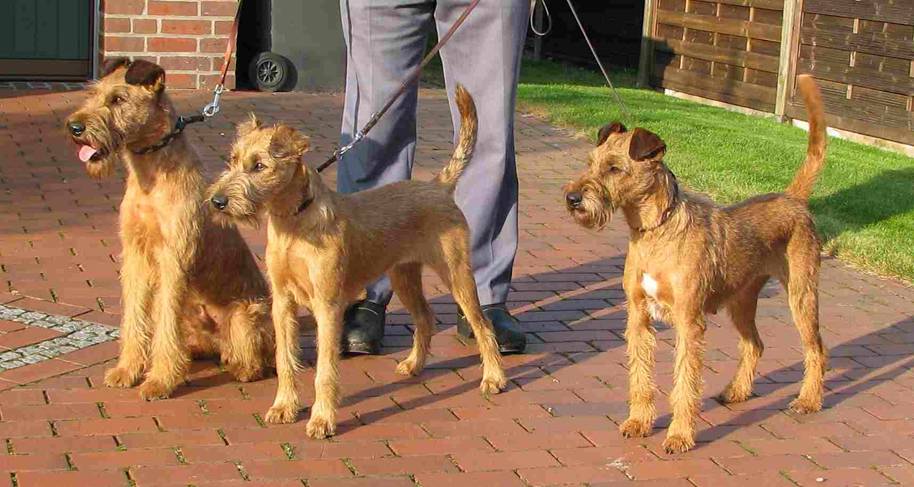 <![endif]>
Rufi , Ruska and Stella enjoy the autumn sun
October  8, 2008
Short but nice time I spent begin september with Rufi in Southern Germany, here at Castle Lichtenstein with 2 nice IT girls of kennel Redpets and a fantastic overlook
<![if !vml]>
<![endif]>
<![if !vml]>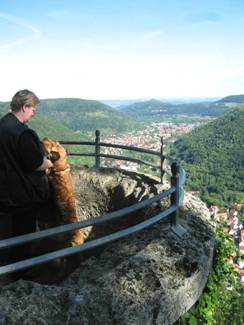 <![endif]>        <![if !vml]>
<![endif]>     <![if !vml]>
<![endif]>
2008 – 8- 17               a nice summer day  …
Byron´s  daughter Spicy, his grandget Stella und Rufi  and great-granddaughter Ruska show the same elegant movement that was introduced into my line by the unforgotten MerryMac Lollapalooza " Byron"  and 
Am Ch  Tralee´s Hurricane Kid "Magic".
2008 – 06- 26                                                        Video Ruska & Stella
2008 – 06- 19                                                        Video Ruska Stella Rufi
2008 – 06 –10                                                       Video Sommerfreuden
Summertime  - Rufi and his lookalike son Buffy enjoy it quite different ;-)...
*******************************
25 years IRISH TERRIERS at RUFUS !
<![if !vml]><![endif]>
Since 30 years Irish Terriers are with me as companions, friends thru all my life, and my intention is to breed healthy and typey Irish Terrier throughout my lifespan from one special family strain I have built from my first bitch. Show success is nice, and I was very proud on f ex

 

only to mention few Byron´s or Speedy´s success in stromg competition, but more satisfying is to breed sound and typical , well tempered ITs that are same good companions to their new owners after a happy childhood at RUFUS IRISH TERRIER.
RUFUS IRISH TERRIER is independent in any way,

 

just don´t talk about health , we DO practise preventive medical checkups and screening of our own brood bitches / studdogs since 25 years . My profession as a small animal vet for 15 years and my responsability from this x-tra knowledge is obligation for me .
All my brood bitches from the foundation bitch on are tested for cystinuria and clear and the studdogs I choose since many years fullfill also my high standards, including my own studdogs Byron and Rufi. All

 

results are documented in the original Lab-test results and can be showed to interests.
Corny feet and cystin stones were luckily never a problem of RUFUS IRISH TERRIER, 26 years careful breeding programm with high standard is behind all my litters of the present time.
<![if !vml]><![endif]>

<![if !vml]><![endif]>
Home of the Rufus Irish Terrier
Member of the British Irish Terrier Association
member of the Irish Terrier Club of America
member of the German Terrier Club (KFT)
<![if !supportLineBreakNewLine]>
<![endif]>
1979 – 1985 study of veterinary medicine in Hannover
15 years experience as small animal vet
Breeding Irish Terriers is a lifetime passion, all my terriers live as companions in the house and puppies are raised up with lots of love and 30 years of experience in the breed and my responsability as a vet , too.
Rufus Irish Terrier do also live in Denmark, Finland, Netherlands, Luxemburg, France, Spain, Switzerland, Italy, Austria , Australia and USA
This website will offer you continous information about RUFUS IRISH TERRIER .
Pure pics of purebred dogs  - we do not use pictures in wich the anatomics of the dogs  is altered !
Last update 2014 - 05 - 11  (main)
Best viewed with Internet Explorer!
---
Anne D. Schans
Veterinarian
Am Telgenbusch 24
D - 49637 Menslage
Germany
Tel/Fax : ++495437902343
Email: Schans.vet@t-online.de