SHOWNEWS
Rufus Irish Terrier
May 2008
<![if !vml]>
<![endif]>
Rufus Violet for Haseland  showed off at the Festival of Irish Terrier breeds and even if she wasn´t placed, I´m very satisfied with her development, she is 44 cm only , elegant and racy and well angulated and excellent on the move.
In Holland and Belgium 2 Byron offspring of Irish Terrier Kennel v Koudenhoven were showed : below right  the sire  of Rufus Violet – Okie Dokie v Koudenhoven – and left Princess Tiger Lily v Koudenhoven, a littersister to Pride Ueliss v Koudenhoven ,mentioned several times earlier.
       <![if !vml]>
<![endif]>           <![if !vml]>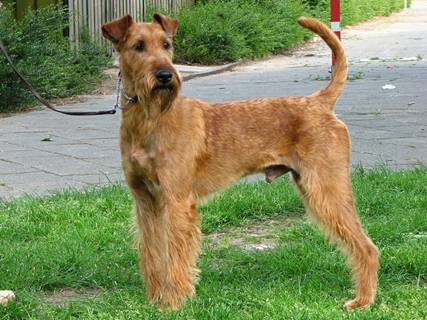 <![endif]>
April 2008
A big succes for a 20 months old bitch  Pride Ueliss v Koudenhoven , breeder Peter Jaspers, NL, and beeing Byron´s youngest daughter , at the Slovakian Terrier Club show . She was not only BOB in stiff competition, but also best brace with her kennelmate Uelis Alex, and then BOG and BIS-2. Our congratulation to the young breeder Brano Polac who is so enthusiastic  with our breed! We wish him much fun at the shows in future with his excellent Irish Terriers!
<![if !vml]>
<![endif]>                       <![if !vml]>
<![endif]>
                                            Sieger der Paarklasse                                                            BIG und Res BIS
<![if !vml]>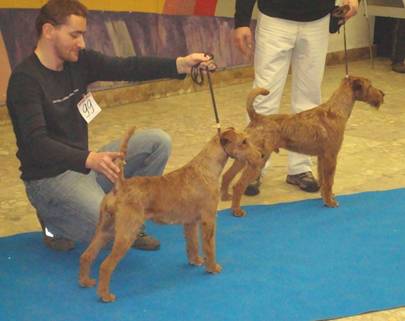 <![endif]>
                                                                                   BOB & BOS (rechts)
March  2008
Byron´s nice daughter Countesse Bernadette v Haseland(pics below)  was at Crufts in strong competition  ( 10 bitches in her classes )in one class 2nd and the other class 3rd. Aöso our congrats to the reeder and handler! 
2007
November 2007 – Byron´s daughters
Byron´s nice daughters in Eastern Europe do very well at the shows:  Pride Ueliss v Koudenhoven,aka "Bessy"  owner Prano Polac, kennel Ueliss ,  Slovakia, won  CACIB and BOS at the Int Show in Prag,  Res CACIB was won by  Jojo Barakohar&Libik.
| | |
| --- | --- |
| <![if !vml]><![endif]> | <![if !vml]><![endif]> |
Brano Polac with his "Bessy" winning BOS in Prag , and BOB was her fellow Alex Ueliss!
The Int Show in Kielce/Polen saw with BOB und CACIB another Byron daughter as winner: Jejakaje Barakohar&Libik  Our congratulations also to their breeders Peter Jaspers/NL and Tomas Slavik /CZ.!
We are also glad about his nice german daughter Ch Countesse Bernadette v Haseland ( picture  scroll down) who was winning Res at the Winner Amsterdam in stiff competition.
We are proud that Byron´s daughters out of different lines are that succesful at shows and win constantly.
13.10.2007  Belgiun
my congratulations, Carolin!
<![if !vml]>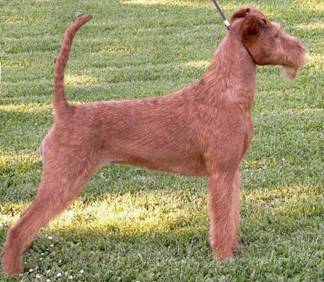 <![endif]>
Ch Rufus Orange Sweetie (  a very nice Byron daughter as well !!!) was today in stiff competition BOB and did as well finish her Inter Champion title and show career with great style! Well done, Amelie and Carolin ! We are looking forward to the next generation – Amelie´s daughter who  represented the Royal Ruby´s  already succesful in the puppy competition and will  be shown in 2008!
02.09.2007
<![if !vml]>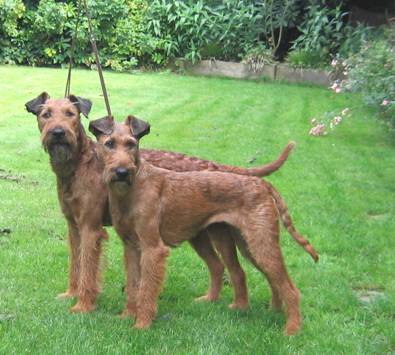 <![endif]>
Ch Countesse Bernadette v Haseland ( Ch R Look at me! – Ch Ann-Claire v Haseland), in front ( behind her ¾ brother by Ch Rufus Quite a Lion)  won today the title Lux Champion. We are very glad about this success of  the elegant Tessa, because she had a bad car accident and horrible broken leg in her youth, and now she moves again excellet – a credit to her breeders&owners Susann & Helmut Gielians!
08.07.2007
| | |
| --- | --- |
| <![if !vml]><![endif]> | <![if !vml]><![endif]> |
Stella and Rufi, fullsiblings , our successful team !
Stella , Rufus Ray of Light did finish her title German Champion this weekend winning 2 CCs after a 2 years break from shows and a nice litter of 6 she raised this march. She presented herself in topcondition and the judges mentioned her nice neckline and movement plus exc coat & colour.
11.6.2007
Zagreb, FCI Euro dog show 2007
<![if !vml]>
<![endif]>
Pride Uelis v Koudenhoven Euro dog junior winner 2007
Our warm congratulations go to the young slowakian kennel "Ueliss" for the big success in Zagreb – "Bessy", the youngest Byron daughter at shows, won the title  junior winner and her kennelmate Uelis Alex was Res in males – way to go, Brano!  
5.05.2007
| | |
| --- | --- |
| <![if !vml]><![endif]> | <![if !vml]><![endif]> |
Rufus Under my Spell 5.5.07, pics: Peter Jaspers
Today our  Rufi won at the European Winner Show VDH in Dortmund – one of the 2 big events in Germany – with 21 Irish Terriers entered under the polish judge Aneta Sobkovska the prestigious title of Europen Junior winner and also complete the title of VDH Junior Champion with his third CC. We are glad and grateful that Rufi fulfilled our hopes that much  and look forward to some new challenges in the future !
28.4.2007
<![if !vml]>
<![endif]>
Rufi ( pic of 27.4. ) was best male Irish Terrier of the Int Show in Oldenburg , and won his last ticket fort he KFT Jun Champion .
The very strict judge Svein Helgesen, N, who gave not many excellent,  wrote in the judgereport:
"Excellent type + balance , very good head&expression, excellent neck & topline, good body for that age, very angulated, very good coat quality not in the best condition for the day, very good in movement , today a bit closed in front + back"
18.3.2007
International news
<![if !vml]>
<![endif]>
At the Slovak Terrier Clubshow, the young Byron daughter Pride Ueliss v Koudenhoven
(Ch Rufus Look at me! X Ch Ita v Koudenhoven) *Bessy* was BIS puppy at her debut. We congratulate her breeder Peter, the owner Brano and especially Jozef Belej who again  worked so effective for our breed.
<![if !vml]>
<![endif]>
Rufi was shown in Wijchen/ NL to Paul Martin / Irland:
"Nice head+ expression, very very good shoulders, excellent jacket well presented, needs to settle on the move, he´s justa baby!, exccellent type "
Well, his 2nd place was well deserved to his unsteady movement , but the class win "stayed in the family": the young male who won the class was a nice son of Byron and litterbrother to Okie Dokie v Koudenhoven, the sire of our present litter!
<![if !vml]>
<![endif]>
Oliver James v Koudenhoven
( Rufus Look at me! X Jente v Koudenhoven)
Thank you, Peter Jaspers for the nice pictures!
************************************************************
Rufi aka Rufus Under my Spell got the 4.3.07 with another Excellent 1 his third "ticket"CC for the junor Ch title, and passed the 3.3.07 his breeding license examination with only excellent results in all parts.
In Germany you can only use a dog at stud after he was shown twice with very good or excellent result and then passed succesful this special examination and detailed description, measuring and with mental test , all written down in a protocol. In the german part of the website you can read the protocol in german.
February
<![if !vml]>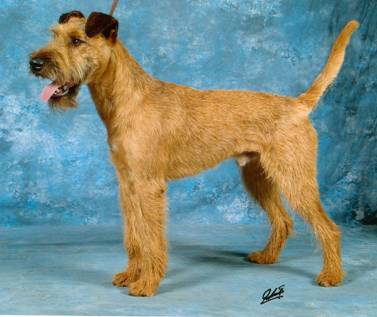 <![endif]>
Rufi aka Rufus Under my Spell went on his 2nd Show, Rheinberg the 25.2. straight to the top – against wellknown winners he managed to win the junior class , get the Junior BOB and then also the BOB, 11 Irish Terriers entered, I Vogt/D judging – and Rufi being the youngest .
Our Rufi aka Rufus Under my Spell had his debut the 10.2. in Castrop-Rauxel , Hans vd Berg, NL judging – and it was a pleasure for me to see how happy  Rufi, who was used only to a relaxed life at the Countryside enjoyed the show despite crowds of people and other dogs of all and he had great fun !
<![if !vml]>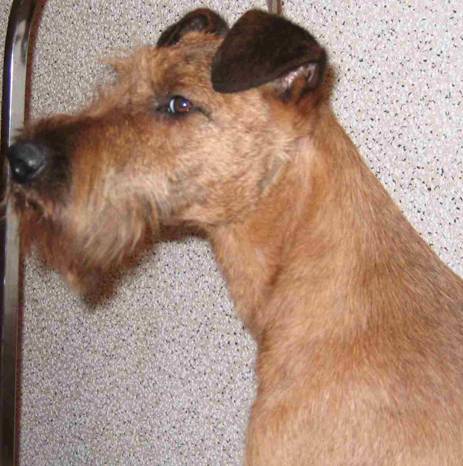 <![endif]>
His judgereport showed his highlights  :
"9 months old, elegant dog, good size, ears set on high, very nice expression, strong foreface , correct angulated both ends, good set on tail, harsh coat, good mover "
He was Excellent 2 with his first CC, beaten only by a 5 months older dog who already won a lot! So we were quite glad about the fact Rufi did show perfect and enjoyed the show- bizz –being far the youngest Irish Terrier at the show and so we look forward to the future shows in 2007!
2006
***top news***
december 2006
<![if !vml]>
<![endif]>
Rufus Tebby of best company came back with a BOB ( 13 entries)  to the showring after a break and more matured now. The irish judge Mrs Johnston mentioned as well the nice handling, and so her oweners were both very glad about this success. Way to go, Tebby …;-)
<![if !vml]>
<![endif]>
…and as a newcomer started little sis of Tebby in puppy class : Rufus Unique Emma  , 7.5months, got her very promising again after her first show in NL and also congratulation to her owners who prepare and handle her with a little help ! Emma is one to watch for…
<![if !vml]>
<![endif]>
Int Ch Red Rabbits Hello Byron, Byron´s first born son, won with another BOB also the Belgian Champion title, and now has 6 titles already!
Our congratulations to his breeders and owners!!!
6.08.2006
<![if !vml]>
<![endif]>
With a BOB , CAC, VDH-A in Hannover-Burgdorf Rufus Tara for Red Rabbits continued her successful show career! Congratulations !
July 2006
<![if !vml]>
<![endif]>
His show debut made Chester a d Walddörfern ( RR Elliot x Rufus Mylady Malin)  owned , trimmed , handled by Dagmar Rossi, CZ ,with a BOB at his first show! To be continued! And his sister Charlett was also successful at her first show with Exc 1 J CAC, congruatulation to the breeder/owner Dr Girlich and family.
2.7.2006
At the Terrier speciality in Dorsten( 13 entries, judge R Devitt , F )  Rufus Touch of Class finished his Jun Ch title gaining his 4th CC , and beating the European junior winner Dortmund 06 – congratulation to his owners, who trim , prepare and handle him so talented!
At the same show his litter sister J Ch Rufus Tara for Red Rabbits  won the intermediate class and got the Res.
23.4.2006
Today at the Int Show in Lingen Ch Rufus Quite a Lion  won Exc 1, CACIB, CAC, VDH, and Rusty finished now the VDH Champion title! Congratulation!
<![if !vml]>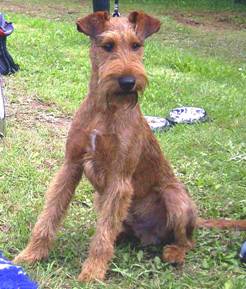 <![endif]>
R Touch of Class did win the junior class and has now 3 J CACs – the BOB was close again, but a halfsister took it this time!
<![if !vml]>
<![endif]>
His sister R Tebby of best company won Exc 2 in the Junioclass –  the very elegant and racy Tebby needs a little more time to mature, then she will trouble all!
<![if !vml]>
<![endif]>
25.03.2006
Rufus Touch of Class "Ole", only shown 2 times so far, made his debut 10 months old with a BOB from junior class in january , 13 entries, judge Mrs Radnetter/ Austria( who judged the WW 2002) and he did it again today at 12 months with BOB , Terrier specialist Les Aspin /England judging, beating Multi Ch among...and his time has just begun....
<![if !vml]>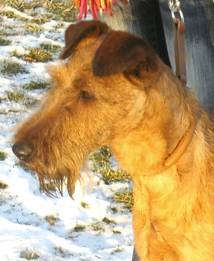 <![endif]>
| | |
| --- | --- |
| <![if !vml]><![endif]> | <![if !vml]><![endif]> |
Ole mid march 2005 
Rufus Tara for Red Rabbits won  4x Exc 1 and J CAC and finished her Jun Ch title at 12 months only! Congratulation to Cutie Tara who is charme, elegance, type  pure plus perfect ears that are hard to fault!
<![if !vml]>
<![endif]>
And also Ch Rufus Quite a Lion was shown and finished his German Ch title – Congratulations also to Rusty, who is really a quality son of Byron and should make his way also at stud, his first progeny shoing nice standard size and very nice coats.
<![if !vml]>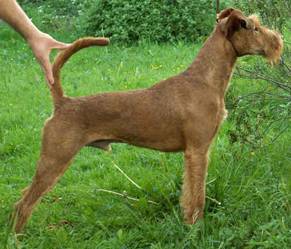 <![endif]>
Special
Finnish & Nordic Winner Show 2005
Since quite long time it was my wish to travel once in the middle of winter to the Northern Countries to catch the spezial atmosphere of that part of the year, with really cold winters we never had since many years.
So I was delighted to receive an invitation earlier this year to visit my friend Eeva in Helsinki, when  hard times overhere are over. Plus the highlights of meeting my finnish exports of the past 8 years + their offspring and also watching the 2 Top Shows in Finland, with 15 000 dogs on 2 days – this was very attractive! 
Danke ! Eeva, for your hospitality!
<![if !vml]>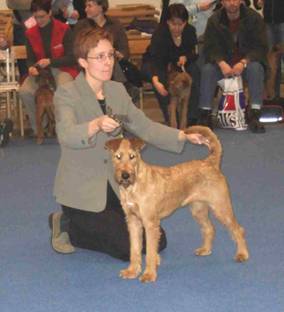 <![endif]>
Eeva showing Lurvendhalis Palantiri "Neala"
( out of Ch R Fire on Ice)
First we had a nice family meeting with traditional *Glögg* ( = punch, also alcohol-free available for me ;-) ) and one after the other Lurvendhalis youngster from some litters of Ch R Fire on Ice"Pirre"  plus Oldies of 12 / 13 years came in, it was quite a bunch of Redheads together, all in peace and we really enjoyed it. Some played outside in the cold and then inside...I was especially glad to see how much Pirre did give her type and temperament to her offspring with 3 different studdogs.
<![if !vml]>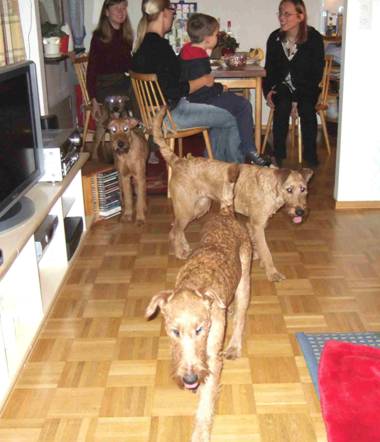 <![endif]>
several generations of Lurvendhalis Irish Terriers and their happy owners
( it was impossible to catch all doggies on 1 picture…)
On saturday, 17.12. the Finnish Winnershow was held, perfect organized as drive –in show, thanks to a ban of smoking the air was really excellent, not at all what we are urged to breathe in the Dortmund halls...and soon after the judging of each breed the judge reports were ready and handed over, so no delay of time was there – also quite positive contrast to what we often see at home, waiting hours and hours. So one could enjoy the judging much better , the dogs are not bored by hours of waiting, and can come in just in time, especailly good for bitches, also one has a lot of time for other activities on the days of the show left.
<![if !vml]>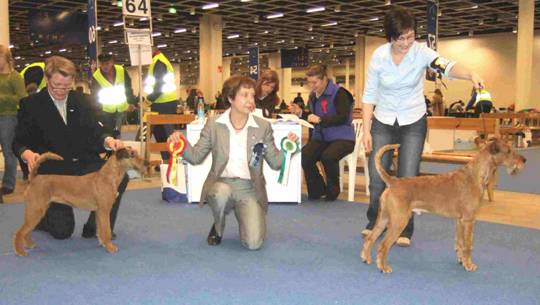 <![endif]>
BOB&BOS Fardarrigh Vernal Equinox & Volcanic
Saturday 14 mainly finnish bred Irish Terriers were shown and the judge Gertrud Hagström  gave BOB&BOS to littermates bred, owned/co-owned and handled by Jetta Tschokkinen.
There were nice contacts and discussions with breeders from the Baltic countries like Estonia and also Russia, and it showed that passion and dedication to the breed is the same as everywhere in the Irish Terrier world.
Sunday the young irish judge Ross Delmar, a son of the wellknown judges Cathy & Sean Delmar( who judged  2003 WW Dortmund) had a nice entry of 21 Irish Terriers, many different dogs to the day before, so it was really interesting to see both shows and it was not boring at all.
| | |
| --- | --- |
| <![if !vml]><![endif]> | <![if !vml]><![endif]> |
                            the 4 best males                                     competition of best bitch class  (left Eeva with Neala)  
<![if !vml]>
<![endif]>
Hannu Rytkönen with Ch Jackpot True Tarzan
A special pleasure for me was to meet Ch Jackpot True Tarzan( top winning Irish Terrier in Finnland 01) the successful son of  Ch R Magic Carlsson, (99 top winning IT in Finland) who was showing at 5 years of age full of himself, always on his toes and perfectly handled by his breeder Hannu.
If exports not only prove their own quality at the shows , but also in their get , this is really something to be very glad about and so I was.
A very nice young bitch from Sweden was BOB and same male as the day before won the male classes.
Congratulation to their owners and breeders!
 <![if !vml]>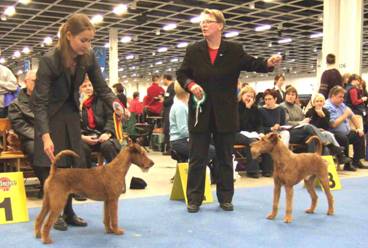 <![endif]>
BOB MM Noblesse Oblige & BOS Fardarrigh Volcanic
Later  we were invited by the owners of my latest finnish export, R Stellar Light (Byron x Lotti) "Ringa" and I was so glad to meet Ringa and her owners + Remu, Fardarrigh Ultra X-posure, her companion! Thanks also to Raija and Olavi for their hospitality and the nice DVD from the show! 
<![if !vml]>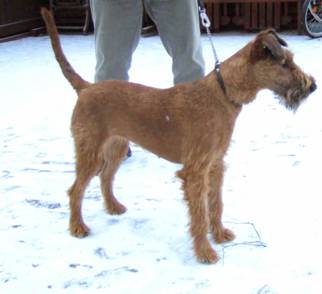 <![endif]>
R Stellar Light, "Ringa ", 1 year old
Much too soon the weeekend was over and a safe flight brought me back to reality and my terriers sniffed each cm of my clothes...., but some pate from bear and also Moose-soup and Hjorton-marmelade will give a special note to our culinary Christmas schedule 2005!
<![if !vml]>
<![endif]>
...and now the couch is ours again!!! Pirre and Neala
***SHOWNEWS***
<![if !vml]>
<![endif]>
We will report about new and also older show success in this part , also a list of RUFUS IRISH TERRIER
Champions is added below.
Even if we are not showing our terriers a lot  they always had excellent results competing with the very best in Europe and in nearly each litter we have chmapion quality, and this is  very satisfying..
*** top news **
11.12.2005
<![if !vml]>
<![endif]>
Rufus Tara for Red Rabbits made her debut with exc 1 and J CC at the specialitity show in Bonn.
23.10.2005
BOB Int Show Straßbourg/ France
Ch Rufus Orange Sweetie is on her way to be Int Ch quite soon with one more CACIB now. Gratulations, Carolin and Amelie, you both are a top team! 
18.9.2005
***Luxembourg Champion***
<![if !vml]>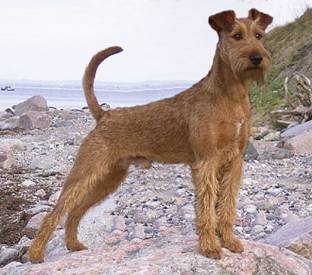 <![endif]>
Rufus Quite a Lion
Thanks to the multiple talents of his owners, Mrs & Mr Annemann, "Rusty" was always showed owner handled and trimmed – my respect!
15.8.2005
New RUFUS Champion
<![if !vml]>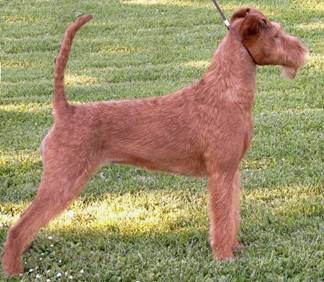 <![endif]>
Rufus Orange Sweetie
"Amelie"
Finished the titles German Ch and VDH Champion last weekend. We are glad that her owner is so much devoted to the breed and Amelie was alsways shown owner-handled-and trimmed to perfection !  
Now we wait impatiently for the first litter of Amelie in winter 06– sire will be an extremely succesful show winner. Watch out on the Royal Ruby´s website for news!
**********************************************************
2005 07 07
Stella is now KfT Jun Champion
2005-07-03
Stella won meanwhile 2 CCs in the adult class and best bitch in Lübeck and Münster, and is on her way to the Nat Ch title.
<![if !vml]>
<![endif]>
...and the promising younger fullsiblings ...
<![if !vml]>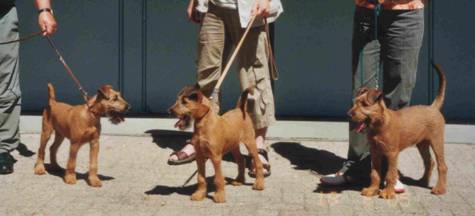 <![endif]>
....can´t wait for their debut!
 june 10th
At present time 4 RUFUS IRISH TERRIER are campaigned and showed with much success :
 R Orange Sweetie and her fullbrother R Quite a Lion , then  R Ray of Light und littermate R Rinaldo Rinaldini … and R Stellar Light ( sister to the first 2 mentioned) will make her debut soon in Finland and some high quality youngsters of the T-litter ( repeat litter to the R-litter) are impatiently waiting for showtime! Here 3 of the T-litter at 12 weeks, natural ears.
<![if !vml]>
<![endif]>
<![if !vml]>
<![endif]>
****news update****
29th may 05
<![if !vml]>
<![endif]>
Our Stella, littersister of Max, finished her title KFT jun Ch in a stiff competition gaining the juniorclass (also the European jun winner bitch among) at the Terrier speciality show in Düssedorf, entry 18 Irish Terriers for Mr Devitt, France.
*** my special thanks to F Lewy for the nice picture of Stella !***
************************************************************************
News
7th may 2005
BOB European Winner Show Dortmund 2005
BOB & European juniorwinner 2005
| | |
| --- | --- |
| <![if !vml]><![endif]> | <![if !vml]><![endif]> |
Max in february……………….……….and may 7  2005
<![if !vml]>
<![endif]>
Rufus Rinaldo Rinaldini
The special story about Max :
 "Max" interrupted his pleasing daily routine as a perfect pet and hunting companion and was shown because the owners realized what quality terrier they have as house companion and agreed with me to show him only a few times and to do the breeding license with him, so he will be able to give his potential to his future get. So he was prepared and handled to perfection by the owner of his sire, Sonja Metschulat who did it close to perfection! Many many thanks, Sonja !
Now , Max will retire to his life before, and this hidden jewel was only sparkling like a Star one special day, and now leads his wonderful life again, and will meet only few selected girls once and then.
Yesterday a normal housepet, and now BOB in the stiff competion with many Champions and famous winners. Sometimes dreams come true...
! Maybe this litter will be repeated a last time begin 2006. It is a perfect match of both parents and produced my best Irish Terriers so far  !
For me this is a special emotional moment, as Max resembles in so many points his great-grandmother Ch Pola Negri who left us at age 15 4 weeks ago. Now her legacy carries on...
| | |
| --- | --- |
| <![if !vml]><![endif]> | <![if !vml]><![endif]> |
Ch Rufus Pola Negri 1991 BOB CACIB Hannover ... Rufus Rinaldo Rinaldini 2005 BOB ESZ Dortmund
And this is the whole succesful team of Rufus Irish Terrier breeding shown in Dortmund
<![if !vml]>
<![endif]>
R Rinaldo Rinaldini "Max" ( BOB) – R Ray of Light "Stella"  (Ex3) – R Quite a Lion  "Rusty"  Ex 2 – entry was 36 Irish Terrier 
***************************************************************************
May 2003
World Winner Show Dortmund
judge Sean Delmar, Irland
Rufus look at me!
<![if !vml]>
<![endif]>
"Byron" went after a rest of 2 years from showactivities at that spezial event with 83 Irish Terriers entered from whole Europe handled to perfection by Peter Jaspers " Koudenhoven" to best Irish Terrier male bred & owned from Germany, beating even the british top dog Ch Montelle Famous Star, only the Cousins from Sweden did pass him;-) 
***************************************************************************
May 1999
Swedish Clubshow
**judge Dr Alex Noonan, GB**
chair of the brit ITA
Rufus Look at me!
<![if !vml]>
<![endif]>
in may 1999 we spent Whitsun with all our terriers in Sweden, entering 4 of them at the Clubshow, with 40 entries. 
We were really delighted thta in such hard and fair competition our Byron was with only 10 months 2nd best of all males of the show, leaving behind famous Champions, and his mom Sweetie won the open class and his sis Zora went 3rd junior class and last but not least his granma Pola went best veteran of the show.
RUFUS Champion gallery since 1990:
Ch Rufus O´Ruby
 ( D und VDH Ch)
<![if !vml]>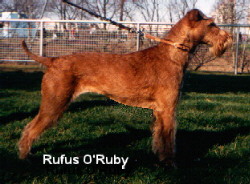 <![endif]>
<![if !supportLineBreakNewLine]>
<![endif]>
Rufus Pagan
 ( KFT J Ch , Bundesjsg 91)
<![if !vml]>
<![endif]>
Ch Rufus Pola Negri
(D Ch und KFTJ Ch)
<![if !vml]>
<![endif]>
Ch Rufus Quinta optima
( Bundes- und Klubjsg 92 und Europasg 93, D Ch)
<![if !vml]>
<![endif]>
Ch Rufus Magic Carlsson
 ( Fin Ch, Top winning Irish Terrier in Finnland )
<![if !vml]>
<![endif]>
Ch Rufus Look at me!
 ( D , VDH, KFT J Ch, Bundesjsg 99)
<![if !vml]>
<![endif]>
Rufus Lady in Red
( KFT J Ch)
<![if !vml]>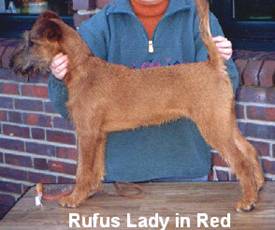 <![endif]>
Ch Rufus Fire on Ice
( Fin Ch )
<![if !vml]>
<![endif]>
Ch Rufus Noisy Ms Hurricane
( Ch D und KFT J Ch)
<![if !vml]>
<![endif]>
Rufus Lusty Lioness
( KFT J Ch)
<![if !vml]>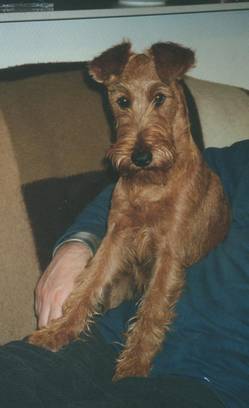 <![endif]>
Rufus Orange Sweetie
 ( KFT J Ch, Ch D and VDH)
<![if !vml]>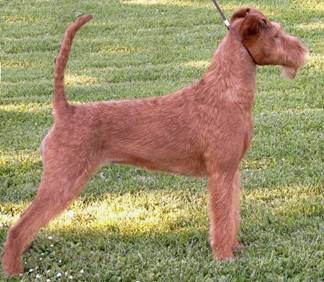 <![endif]>
Rufus Quite a Lion
 ( KFT J Ch, Ch D, VDH and Lux )
<![if !vml]>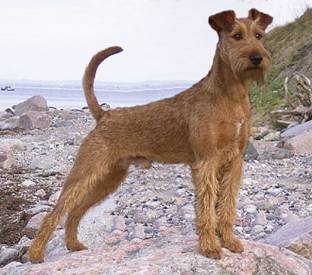 <![endif]>
Rufus Ray of Light
 ( KFT J Ch)
<![if !vml]>
<![endif]>
Rufus Rinaldo Rinaldini
 ( European junior winner VDH 05 and BOB, 36 Irish Terriers entered)
<![if !vml]>
<![endif]>
Rufus Tara for Red Rabbits
(KfT J Ch)
<![if !vml]>
<![endif]>
Rufus Touch of Class
 (KfT J Ch)
<![if !vml]>
<![endif]>