Breeding program
Rufus Irish Terrier
Breeding means thinking in generations
A true Breeder is someone who:

Has spent years studying pedigrees and breed types;
Never stops learning about breed history and purpose;
Knows and understands the breed standard;
Is constantly on the lookout for inherent breed problems;
Freely recognizes both the positive and negative points of his or her own animals;
Has an open and objective mind toward competitors' animals;
Has established a breed line (a distinctive type within the breed) much like a master painter has developed a distinctive style that sets his work apart from others;
Has endured years of heartbreak and sacrifice...
(with kind permisson of Judith Forbis, Ansata Arabian Horses, from" Authentic Arabian Bloodstock II")
*How the RUFUS Irish

Terrier

Type was created*
The Irish Terrier should be a very racy and elegant Terrier covering much ground ( no short back!) and this makes the main difference to other comparable  Terrier breeds.
One of my favourite ones in the very past was CH Pathfinders Quickstep who gave me an idea how a real Irish Terrier should look.  A noble headpiece with perfect ears, with a long, elegant neckline and  nicely balanced body.
<![if !vml]>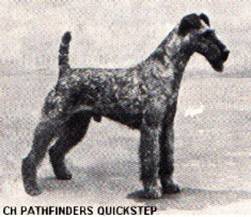 <![endif]>
The begin ….
My foundation bitch came from a mother of the famous Frankenlerche strain, Countess Stauffenberg  was the most important German breeder after WW 2. She re-established the breed  in Germany after all war troubles and many large old kennels lost in the Eastern parts of Germany behind the Iron Curtain. And she was the first to import from Ireland and England.
The fascination of this Frankenlerche strain with almost always specimen showing outstanding heads and typey allthrough  did leave a mark on my first impressions of the Irish Terrier      I met.  I watched Countess Stauffenberg  1977 winning at the WW show in Denmark, and remember well her stars of those days.
For my first litter in 1983 I choose a son of Ben´s Heir Clancy, one from the famous Northern Irish Terrier lines, out of Championesse vd Frankenlerche, so both motherlines going back to Frankenlerche. This litter presented me a very nice special terrier, Nurmi, who was for me really the type I had looked for and I saw in him my vision of the *Rufus Irish Terrier Type* to breed for. And indeed – even if Nurmi never had a single offspring ( he was unfortunately oversize)  ,  21 years later his type and expression shows up in the majority of my Irish Terrier .
<![if !vml]>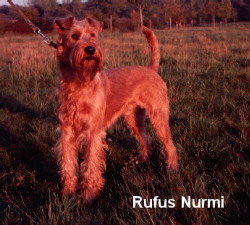 <![endif]>
During the following years I tried to improve a lot conformation , coat, size and movement. This succeeded well with the use of Frankenlerche again ( with sire Pirat vd Lichtenheide, who goes back to pure Frankenlerche) and I kept a bitch puppy. She was my first homebred Champion.
| | |
| --- | --- |
| <![if !vml]><![endif]> | <![if !vml]><![endif]> |
<![if !vml]>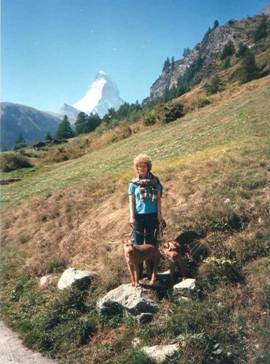 <![endif]>
Mit Nurmi  & Ruby 1988 in the Alps
With the exceptional studdog Maghill of Ben´s Heir she had 10 excellent offspring , 3 successful showdogs among, and this mating improved a lot the irish Terrier type and backline. But he changed as well the heads towards more wide skulls and less noble and I was anxious to loose the narrow , elegant heads of the Frankenlerche strain.
....Pioneer in introduction of american lines in Germany....
So I looked around in Europe and watched the Scandinavian Irish Terrier scene and was very much impressed by the american imports of the Swedish kennel Merrymac. Tralee´s Hurricane Kid " Magic" was a stallion of a terrier – his firered colour and perfect movement and the proud looks made me shiver:  what a great personality! Very different to Maghill, but same quality of an outstanding Irish Terrier.
<![if !vml]>
<![endif]>
Ch Tralee´s Hurricane Kid,  1994
These american lines had a much better shoulder conformation and tailset , they could move close to perfection. Covered with an attractive straight,  red double coat they were the addition to my breeding programme I had looked for. Plus "Magic" was a known sire of many nice and elegant bitches with excellent heads.
And the very interesting genetic background – almost pure american line since decades – offered as well genes that were complete new for european breeders.
These US-Irish  of Tralee breeding were pure American -bred since many generations and trace back to excellent imports at the end of the last century, when many of the top-dogs were sold to USA, as we can read it in the classic book of F.M. Jowett: The Irish Terrier: " Formerly, the best prices were obtained from our American cousins, who are always willing to pay the price for the very best; but there is no doubt (!) that Irish Terriers have suffered from this, as the best stud dogs and bitches have for many years gone abroad"
So these American Irish Terriers go back to the very best specimens of the foundation period of the breed and this inspired me to reunion their lines- since1918 mostly american-bred - with our European material.
What a thrilling idea to reunite these both strains ! I went with my Maghill-daughter Pola the first time in 94 to Sweden and she had a  litter of 1 +4  with the American sire "Magic" CH Tralee´s Hurricane Kid that fulfilled my hopes. This was one of the best litters I had so far . All bitches went to breeders and turned out to be successful brood bitches and their offspring is spread now over Europe.
...my 2nd foundation bitch "Swedie" and much success of her offspring in Europe...
I  kept a very nice bitch from this mating, R Magic Polestar, and I call her the second foundation bitch of my line, as her offspring  topped all expectations I had and her influence is visible even in great-grandchildren .
<![if !vml]>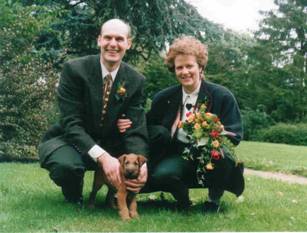 <![endif]>
Sweetie puppy was the special guest at our wedding;-)
<![if !vml]>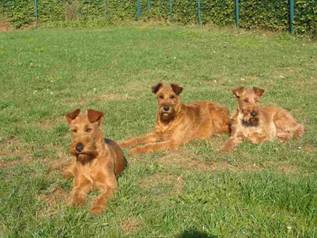 <![endif]>
Lotti ( by Dundee) –Spicy ( by Byron) - and their grandma Sweetie, 2003
Then followed a time of about 5 years of using different Merrymac studdogs on Pola and her Magic daughter , who had in common – they were all halfbrothers out of the outstanding brood bitch Am Ch Starkdom´s Tralee , who was really a *great* brood bitch with several Worldwinners as direct offspring, she started a family with a glory that persists since generations and lead to Crufts winners and made her kennel world wide famous.
So I wanted to collect the line of this excellent bitch from her 4 sons by 3 different sires.
<![if !vml]>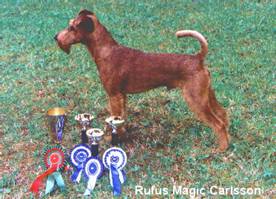 <![endif]>
The results of these litters were more than satisfying. In the first litter of Swedie she had  Ch R Magic Carlsson who went Top winning Irish Terrier in Finland and his sister at my kennel was of outstanding movement and conformation , but helas...her ears were not perfect, but she was a perfect mother and I kept 2 Ch daughters of her.
...and then "Byron"....my once-in-a-lifetime-dog....
Her second litter gave me my all time favourite Byron, Look at me! , this terrier embodies the true Rufus type and his perfect movement and body balance made him very succesful at shows ( limited shown) in competition to the best Irish Terrier in Europe , and the very best : he is able to pass his qualities ! This is more than one can hope. This is something to be *grateful* .... and when I look at him I see all his forefathers combined in him and I feel glad allthrough.
<![if !vml]>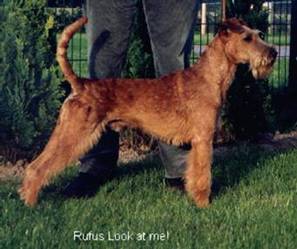 <![endif]>
....no stand still - more diversity !.......
But I don´t wanted to sacrifice my inner conviction about genetic diversity for show success – so I had to watch for a new genetic input to my line – and this was a lucky coincidence that just that time such studdog I looked for had been imported from England to Germany! Inchicore Lionel"Dundee" sired 15 puppies for my kennel, and I kept one nice bitch, Lusty Lioness "Lotti" . She helped me a lot escaping from too close breedings and she suits very well to Byron.
<![if !vml]>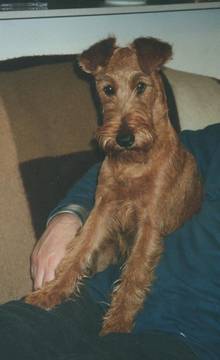 <![endif]>
J Ch Rufus Lusty Lioness
Now the situation has changed again : because "Dundee" was such a success at stud and many breeders wanted his nice puppies with their "Dundee-look" on them, excellent characters and nice coats, he has almost 100 offspring and his sons sire many litters as well and also his father Montelle Famous Star is since 1 year in Germany and leaves also many offspring! We deal with an unexpected  popular sire effect now!  What was thought to be a nice outcross possibility overwhelmed now the german Irish Terrier ( and many countries around)  scene with one line....
...and again: more genetic diversity !....
Due to this new fact  I plan to establish one RUFUS  line "free of Famous Star/ Dundee"-blood, as nearly 75 % of the Irish Terriers overhere will soon carry these sires and their sons in their pedigrees and this leads to a poor genetic situation regarding diversity, like we had 10 years before with Maghill of Ben´s Heir who had 350 direct offspring.
Now my plans will combine both ambitions – trying to keep up the quality, but always introducing new genes -  : using terrier that go back to the Northern Irish Terrier lines to improve ears and eyes and lower the inbreeding coefficient, f ex with Red Rabbit´s Elliot , and establish a line free of all Famous Star/ Dundee genes. 2004 I raised one daughter of Elliot and Spicy ( by Byron)  who went soon Jun Champion at shows and her litterbrother was the shooting star for my line in 2005 – out of 35 Irish Terriers he became BOB from juniorclass, this was his third and last shows, as his owners only showed on my request, he lives as normal pet and is trained in tracks and has also lifetime breeding license.
<![if !vml]>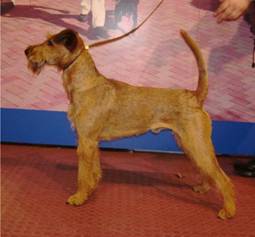 <![endif]>
Ejsg + BOB Dortmund 2005 Rufus Rinaldo Rinaldini
And the T-litter of same parents shows same quality level….
| | |
| --- | --- |
| <![if !vml]><![endif]> | <![if !vml]><![endif]> |
Rufus Touch of Class                                                   Rufus Ray of Light
| | |
| --- | --- |
| <![if !vml]><![endif]> | <![if !vml]><![endif]> |
R Tebby of best company                                      R Tara for Red Rabbits
And my other goal is fixing the essence of my type in special matings with Byron and Lotti or Byron´s sons from very different bitches and Lotti and Stella in the future. Rufus Quite a Lion and One an Only ( by Byron out of Lusty Lioness) are examples how strong this special Rufus Irish Terrier type persists over generations! 
.....and so the story goes on....
| | | |
| --- | --- | --- |
| <![if !vml]><![endif]> | <![if !vml]><![endif]> | <![if !vml]><![endif]> |
| | |
| --- | --- |
| <![if !vml]><![endif]> | <![if !vml]><![endif]> |
                                                                        Spicy                                             2003                              Lotti – Spicy – Sweetie

<![if !vml]>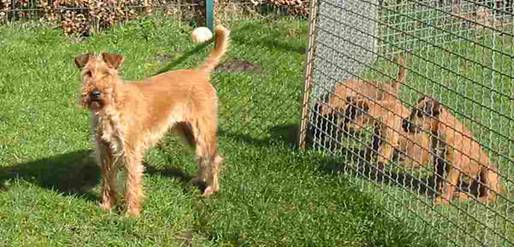 <![endif]>
Sweetie and her 3 great-granddaughters, march 2004 ( Stella right)